EVELYN POLLEY BERTONE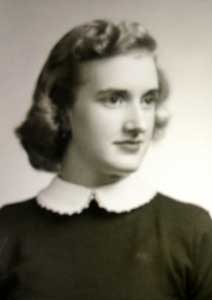 CLASS OF 1955
MARCH 25, 1938 - FEBRUARY 3, 2001
Evelyn M. Bertone, 62, Overland Park, a native of Linn County and former Osawatomie resident, died February 3, 2001 in her home.
She was born March 25, 1938 in the Cadmus community in Linn County and her parents were Donald Laverne and Avis Harvey Polley. She grew up in the Cadmus community, attended local schools and completed her first three years of high school at Parker Rural High School.
The family moved to Osawatomie where she graduated from Osawatomie High School with the Class of 1955.
She and Jimmie Bertone were married June 10, 1961, and they became the parents of three children. They lived in Pittsburg for about a year before moving to the Kansas City area. They moved to Overland Park in 1969. Mr. Bertone preceded her in death in 1997.
In addition to being a homemaker, she was employed by Beneficial Finance in Overland Park for several years.
She was a member of Elks Ladies and she enjoyed arts and crafts.
Survivors include two sons, Stephen Bertone of Kansas City, MO and Anthony Bertone of Osawatomie; a daughter, Nancy Clark of Independence, MO; her mother, Avis Polley of Osawatomie; two sisters, Karen Kellogg of Rich Hill, MO and Mildred Wade of Irving, TX; and six grandchildren.
Services were held in D. W. Newcomer's Sons Johnson County Funeral Chapel in Overland Park with burial in Johnson County Memorial Gardens.