V. ELAINE ELKINTON PAGE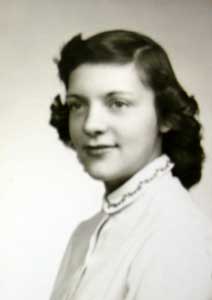 CLASS OF 1955
MAY 28, 137 - APRIL 14, 2006
V. Elaine Elkinton Page, 68, Wheatland, Mo., a native of Osawatomie and longtime Parker resident, died Friday, April 14, 2006.
Born May 28, 1937, in Osawatomie, she was the daughter of Bill and Bessie Spellman Elkinton. She grew up in Osawatomie and graduated in 1955 from Osawatomie High School.
She married Mell Page on Oct. 24, 1955 and they became parents of four children.
They lived in the Parker area for many years before retiring to Weslaco, Texas, in 1996. They recently moved to a lake home in Wheatland, Mo., to be closer to their children.
Mrs. Page worked as a psychiatric aide at the Osawatomie State Hospital for seven years during the 1950s and the 1960s. During the 1970s and 1980s, she worked at a restaurant in Parker named Hannah's in memory of her daughter, Sandra Sue Page, who died at the age of 15 in a vehicle accident on Nov. 1, 1975. From 1979 through 1987, she worked on and off at Tastee Freez in Osawatomie.
She accepted the Lord as her Savior in November 1969 and tried to live her life for Him. She was raised a Baptist and was a member of the Galmey Community Church. She was a former member of the Red Hat Club and had been a tour agent at Ranchero Village Trailer Park.
Her life was not without giving; every person who came into her life was blessed.
Those preceding her in death also included a brother, Edd Elkinton.
Survivors include her husband, Mell Page of the home; three children, Candy Phillips of Wellsville, Randy Page of Mapleton, Kan., and Marla Snider of Overland Park; two sisters, Jean Brown of Sterling, Alaska, and Juanita Otero of Bend, Ore.; a brother, William Elkinton Jr. of Maryville, Tenn.; six grandchildren; and six great grandchildren.
Services were Tuesday, April 18, at Eddy-Birchard Funeral Home in Osawatomie, followed by burial in Highland Cemetery at the south edge of Parker. Pallbearers were Kurt McDowell, Gavin Fouts, Dustin Snider, Brian Arnold, Johnny Page and Devin Morgan.
Memorials may be made to CMH Hospice, 113 E. Broadway St., Bolivar, MO 65613 or in care of the local funeral home.
.