BETTY LEE BREWER PASCHKE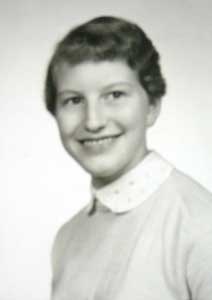 CLASS OF 1955
OCTOBER 7, 2013 - NOVEMBER 22, 1937
Betty Lee Paschke, Age 75, of Roseburg, Oregon, met her beautiful Savior in the early morning hours of Monday, October 7, 2013.
She was born on November 22, 1937 in Ottawa, Kansas, to the late Ross and Laura Brewer. She was united in marriage to the love of her life Keith Paschke on August 12, 1961.
Betts had battled health issues for years but you would never have known it by her positive attitude and constant love and affection for others.
Betts enjoyed tennis, writing poetry, jewelry making and creating custom greeting cards for her family and friends.
She is survived by husband, Keith Paschke; daughter, Tracee Van Slyke and her husband Dan of Glide; son, Darren Paschke and his wife Ronda of Roseburg; grandchildren: Levi Van Slyke and his wife Jenn of Glide; Lindsee Atkin and husband Stan of Dallas, Texas; and Hunter and Lauren Paschke of Roseburg; great-grandchildren: include Ellee and Weslee Van Slyke; and Benjamin and Baylee Atkin. Betts also had a very special place in her heart for her numerous nieces and nephews.
She was preceded in death by her parents, Ross and Laura Brewer; beloved sisters: June Kettler and Shirley Maycumber; and infant daughter, Terri.
Services will be held at 7 p.m. on November 8, 2013, at Wellspring Bible Fellowship in Roseburg.
The family would like to extend their gratitude to Dr. Joel Lee and staff, loving caregivers: Amy Baker and Beth Risley, Denise with Mercy Home Health, Linda and Deanna from Mercy Hospice, Christian, Christina and Valerie from Advantage Home Care, RAC and Wellspring Bible Fellowship. Donations can be made to a charity of your choice.