JAMES P. RHODES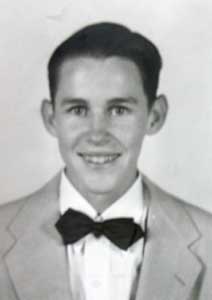 CLASS OF 1954
OCTOBER 29, 1936 - OCTOBER 17, 2004
James P. Rhodes, 67, Coweta, Okla., a Parker native, died Sunday, Oct. 17, 2004, at St. Francis Hospital in Broken Arrow, Okla.
He was born Oct. 29, 1936, in Parker, the son of Clarence P. and Helen Barken Rhodes. He graduated from Osawatomie High School in 1954, then attended Cleveland Chiropractic College in Kansas City, Mo., for four years.
He worked as a chiropractor for 40 years. At the time of his death, he was employed at Martin Medical Center in Oklahoma.
He served four years in the U.S. Navy.
He was a member of the Shepherds Chapel in Gravette, Ark. He was also a member of the Harley Owners Group and ABATE motorcycle organization.
A sister, Nancy, preceded him in death.
He was married to Sabra Morrow on Dec. 20, 1996, in Eureka Springs, Ark. She survives at the home.
Also surviving are a son, James P. Rhodes II of Oklahoma; two stepdaughters, Cassody Morrow of Keller, Texas, and Sarah Morrow of the home; his mother, Helen Rhodes, and a brother, Larry Rhodes, both of Osawatomie; two sisters, Doris Wilson of Garnett and Linda Haskins of Osawatomie; and a grandchild.
Services were Oct. 20 at First Baptist Church in Coweta. Arrangements were under the direction of Wright Funeral Home in Coweta. A memorial service was Saturday at First Baptist Church in Osawatomie.