WAYNE LAMBERT BROOKS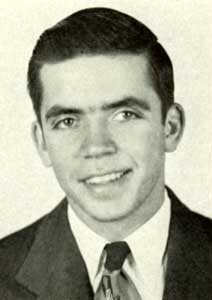 CLASS OF 1953
MARCH 29, 1934 - MAY 20, 2010
Wayne Lambert Brooks, 76, Osawatomie, died May 30, 2010, at Life Care Center in Osawatomie.
He was born March 29, 1934, in Osawatomie. He was the son of William Howard and Aletha Leona Blackman Brooks. He grew up in Osawatomie and graduated from Osawatomie High School in 1953.
He served his country with the National Guard, the Army, and the Reserves in the 1950s through the early 1960s.
He married Eleanor Joy Ray at the Methodist Church in Osawatomie on June 13, 1953. They became the parents of two daughters and made their home in Osawatomie. Their marriage ended in divorce in 1979.
He married Charlotte Guthrie Crozier on July 14, 1979, in Paola, and they made their home in Osawatomie. Their marriage ended in divorce in 1986.
He married Susan Stockton Whiles on July 21, 1987, in Paola. They made their home in Osawatomie.
He worked for the city of Osawatomie for 27 years as a janitor among many other duties. He also moved several families, pianos and many other items. He helped with many auctions in the community. He also worked for Sky Hook in Ottawa. He worked for Country Cuzzins for several years before retiring.
He enjoyed fishing with friends and family. He also enjoyed watching John Wayne movies, clowning for various organizations, helping with set up of prom and Old Time Fiddlers and Pickers.
He was preceded in death by his daughter, Laurie Rae Brooks Johnston; a half-brother,, Robert Mitchell; three stepbrothers, Lawrence, Manford and Roy Wobker; and two sisters, Rosemary Penico and Vera Montavon.
He is survived by his wife, Susan; his daughter, Rebecca Brooks Davey of Osawatomie; a stepson, R.D. Whiles of Iola; two stepdaughters, Stephanie Whiles Loving and Angel Drybread, both of Colony; a half-brother, Bill Mitchell of Nowata, Okla.; two sisters, Shirley Brooks Kern of Mellville, La., and Joann Brooks Willis of Raymore, Mo.; a half-sister, Ernestine Mitchell Reynolds Picus of California; five grandchildren, Brandie, Brian, Sandie, Jeffery and Tony; four step-grandchildren, Susan, Italy, Ky and Sydney; and four great-grandchildren, Mackenzie, Lillie, Rylie and Brooklyn. He will be missed by all.
A memorial service was held Saturday. Arrangements were by Eddy-Birchard Funeral Home, 203 Main St., Osawatomie, KS 66064, (913) 755-2114.
Memorials may be made to the Wayne Brooks Memorial Fund at First Option Bank.