DOLORES WAGGONER WALTON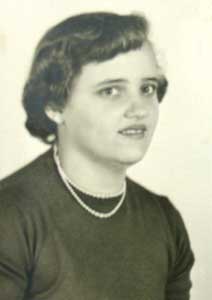 CLASS OF 1952
MAY 18, 1934 - NOVEMBER 20, 1992
Services for Dolores Walton, rural Muscotah, KS, were held Monday in Maple-Chancy Mortuary.
Mrs. Walton, 58, died Friday, November 20, 1992, in her home. She was born May 18, 1934 in Osawatomie, the daughter of Andrew and Elsie Waggoner. She grew up in Osawatomie and was a 1952 graduate of Osawatomie High School.
She and Clark Walton were married May 8, 1957, in Osawatomie. He survives.
In addition to her husband, survivors include a daughter, Sharon Small, Horton, KS; five brothers, Paul Waggoner, Huntington Beach, CA., Lloyd Waggoner, Diana Point, CA., Arthur Waggoner, Denver, CO., Bob Waggoner, Omaha NE., and Raymond Waggoner, Osawatomie; three sisters, Maxine Dickson, Pittsburgh, PA., Pauline Sawyer, Topeka, KS., and Juanita Wilson. Burial was in Muscotah Cemetery.