WILMA JEAN (JOHNSON) VASQUEZ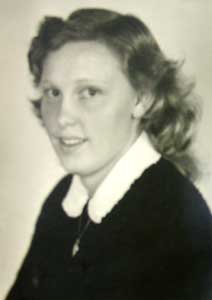 CLASS OF 1952
FEBRUARY 7, 1934 - MAY 2, 2018
Rosary 9am Saturday, May 5, 2018 followed by
Service 10am Saturday, May 5, 2018
all at St. Philip Neri Catholic Church
Burial Lane Cemetery
Memorials are to Olathe Hospice and may be sent
c/o Eddy-Birchard Funeral Home P.O. Box 430 Osawatomie, Ks 66064
Wilma Jean Vasquez age 84 of Olathe, KS formerly of Osawatomie, KS died Wednesday May 2, 2018 at her home.
Jean was born February 7, 1934 in Osawatomie, Ks. She was the eldest of two daughters born to Arthur John and Mary Geneva (Servais) Johnson. She grew up in Osawatoie where she attended school. Jean graduated from the Osawatomie High School with the class of 1952.
After high school, Jean started working for the Osawatomie State as a Psychiatric Aide. While working for the OSH, Jean met Joseph Paul Vasquez, who was also a PA at OSH. The couple was united in marriage on May 11, 1960 in Olathe, Ks. The couple renewed their vows twice more, once in the St. Philip Neri Church and then in Israel. Together they had four children, Yvonne, Julia, Joseph, and John.
Joe and Jean made their home in Osawatomie. Jean continued working for OSH but went back to school to become a Registered Nurse. She attended Neosho County Community College where she earned her nursing degree in 1992. Then in 1996, Jean retired from the state hospital.
Jean enjoyed traveling. When her children were younger she and Joe would take them all over the United States and also to different countries. Jean and Joe went on many cruises and traveled across the world. In her down time, Jean loved to read and sew. She made her children's clothing when they were growing up. Jean had lots of friends and made friends with her neighbors and their children over the years. She was a member of the St. Philip Neri Catholic Church of Osawatomie.
She was preceded in death by her daughter Yvonne Montgomery, son John Vasquez, granddaughter Leslie Jacobson, parents and sister Elizabeth Couts.
Survivors include husband of almost 58 years, Joe of the home, daughter Julia (Michael) Jacobson of Wichita, Ks, son Joseph E. Vasquez of Olathe, Ks. Four grandchildren Allen Montgomery, Kristine Parks, Amber Vasquez and Benjamin Jacobson and three great grandchildren AJ Montgomery, Darian Montgomery, Rusty Parks and Alexander Mann. Along with other family and friends.