GORDON DEAN DAVEY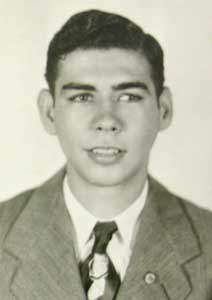 CLASS OF 1952
APRIL 2,1934 - SEPTEMBER 3, 2016
Gordon Dean Davey, age 82, of the Beagle Community in rural Osawatomie, Kansas, died September 3, 2016 at his home one day after his 60th wedding anniversary.
The youngest of five children born to Lloyd A. and Stella M. (Hate) Davey, Gordon was born April 2, 1934 at Parker, Kansas where he attended elementary school. He graduated from Osawatomie High School with the Class of 1952.
On September 2, 1956, the marriage of Gordon Dean Davey and Mary Lou Baxter took place at the Fontana Methodist Church. The couple had an early celebration of their 60th wedding anniversary on July 10, 2016 with their family and friends in the Beagle Community. Their farm located in the rural Beagle Community was where they made their home for all 60 years of marriage. They became the parents of four children Larry, Gayle, Robert, and Mark.
Gordon was a true full-time farmer. He had raised hogs as well as dairy and beef cattle. He ran a dairy operation in his early years on the farm. Gordon was very involved with helping his children and grandchildren in their 4-H beef projects. He also farmed a variety of crops. For many years his farming was a cooperative effort with his brother-in-law Claude Diehm. Most recently, Gordon had worked 15 years during the night shift at Paola Walmart.
Gordon served with the National Guard for several years.
Almost always, one would find Gordon sporting one of his favorite sports teams' shirts, KU basketball or Royals baseball. He was such an avid KU basketball fan when he and Mary Lou were first married, he kept a record of the team's stats. Gordon also enjoyed playing horse shoes competitively. He was a member of the Ottawa Horse Shoe Club. In July of 2015, his son Robert took him to the World Horse Shoe Championship held in Topeka so that Gordon could compete. Gordon was able to muster up enough strength to compete in one of the two day event. That was quite an impressive accomplishment for an 81 year old!
He was also a long-time, active member of the Beagle United Methodist Church.
Preceding him in death were his parents, two brothers Gerald and Fred, and his brother-in-law Claude Diehm.
He is survived by his wife Mary Lou of the home; daughter Gayle of Belton, Missouri; three sons and daughters-in-law Larry & Becky and Robert & Jackie of Osawatomie and Mark and Mitzi of Clayton, North Carolina; two sisters Mildred Diehm of Osawatomie and Lola Keran of Lenora, Kansas; 7 grandchildren Brian (Angie) Davey, Mercedes Smith, Josh Davey, Shelby (Daniel) Crowley, Katelyn, Kenzi, and Kessa Davey; 5 great grandchildren Brooklyn and Brock Davey, Paxton and Connor Crowley, and Texlyn Davey; many other relatives and friends.
In lieu of flowers, the family suggests contributions in memory of Gordon be made to the Miami County Cancer Foundation, Beagle United Methodist Church, or Ottawa Horse Shoe Club. Memorials can be sent in care of Penwell-Gabel Funeral Home, 605 O'Neal Ave., Osawatomie, KS, 66064.
Visitation:
Saturday, September 10, 2016 from 1:00pm to 3:00pm, Beagle Methodist Church
Service:
Saturday, September 10, 2016 at 3:00pm. Beagle Methodist Church