LESLIE BARRETT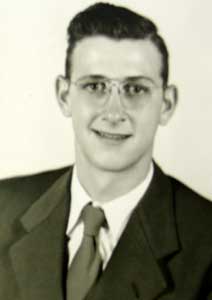 CLASS OF 1952
MARCH 3, 1934 - SEPTEMBER 16, 2002
Leslie N. Barrett, 68, Olathe, former sheriff of Miami County and native of the Beagle community, died Monday, Sept. 16, 2002 in his home after a long illness suffering with cancer.
A son of Verlie A. and Ruth J. Hoyle Barrett, he was born March 3, 1934, on the family farm south of Osawatomie near Beagle. He grew up on the farm and was a 1952 graduate of Osawatomie High School.
Shortly after his graduation, he enlisted in the U.S. Navy and served during the Korean War. He was stationed in Guam where he drove a truck hauling bombs to and from ships. After being honorably discharged Nov. 19, 1953, he returned to the Osawatomie area.
He and Dorothy Fields were married Aug. 20, 1954 in Garnett, and they became the parents of four children.
Mr. Barrett had a long history in county law enforcement. He served as Miami County undersheriff in the 1960s and was appointed sheriff in 1970 by Gov. Robert Docking. He served 2-1/2 years. After this term, he worked for the Missouri Pacific Railroad for a time. He had also worked for Boeing Aircraft Co.
He returned to county law enforcement when Charles Light became sheriff of Miami County and served as deputy sheriff and undersheriff. He later worked in the Osawatomie Police Department.
In later years he worked as a security guard for Shawnee Mission Medical Center and retired from Johnson County Community Corrections where he had worked for five years.
The Barretts lived in Osawatomie until 1970 when he became sheriff. During this time they lived in Paola. They had lived in Olathe since 1980.
Mr. Barrett was a member of American Legion Post No. 153 in Olathe and the Kansas Sheriff's Association.
His hobbies included quail hunting and fishing.
Survivors include his wife, Dorothy Barrett of the home; his children, Woody Barrett of Oxnard, Calif., Bob Barrett and Leora Christy, both of Olathe, and Leslie Barrett of Rantoul; two brothers, Robert Barrett of Olathe and Eldon Barrett of Parker; a sister, Wanda Cantrell of Overland Park; 10 grandchildren; and 10 great-grandchildren.
Services were held in the Beagle Cemetery.
Memorials were made to Olathe Medical Center Hospice. Arrangements were by Wilson and Son Funeral Home, Paola, KS.