GERALD DEAN BALDWIN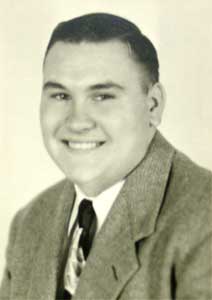 CLASS OF 1952
AUGUST 9, 1933 - DECEMBER 31, 1997
Topeka- -Services for Gerald Dean Baldwin, Topeka, were held Saturday in Parker-Price Mortuary.
Mr. Baldwin, 64, died Wednesday, Dec. 31, 1997 in St. Francis Hospital in Topeka.
Born August 9, 1933 in Osawatomie, he was the son of Leonard O. and Hilda Mable Brutchin Baldwin. He graduated from Osawatomie High School in 1952. He and Ruby Pearl Riggs were married Dec. 23, 1963 in Missouri. After living in Great Bend and Lebo, they moved to Topeka in 1966.
Mr. Baldwin was a projectionist. As a 16-year-old, he worked at the Midway Drive-In and the Osawa theater in Osawatomie. While in Great Bend, he was a truck driver for Mayflower Van Lines. He later operated and owned a gas station in Lebo.
After moving to Topeka, he ran movies for 20 years in Dickinson and General Cinema theaters. After retirement, he worked at Hypermart in Topeka. He first served as a door greeter. For the last eight years, he worked seasonally as Santa Claus.
Survivors include his wife, Ruby, of the home; a son, Shon Baldwin, Topeka; three daughters, Margaret Baldwin, Kimberly Baldwin and Cindy Schiffelbein, Topeka; a brother, E. L. Baldwin, Osawatomie; a sister, Betty Linville, El Cajon, Calif.; and six grandchildren.
Burial was in Topeka Cemetery.
Memorials in his name have been established to the American Diabetes Association and the American Heart Association.