LON THORNTON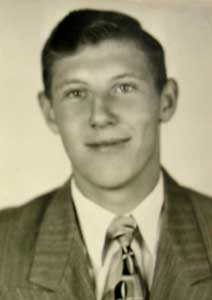 CLASS OF 1951
Lon Thornton, age 86, of Paola Kansas, passed away January 22, 2020.
Visitation will be Saturday February 8, from 10 a.m. to 11 a.m. with Celebration Services at 11 a.m. at the Lighthouse Presbyterian Church. Inurnment will be at the Paola Cemetery.
Memorials may be made to the Lighthouse Church
Lon was born March 25, 1933, at Fontana, Kansas. He was the son of Earnest Thornton and Sylvia Bair-Thornton. He graduated from Osawatomie High School in Osawatomie, Kansas, where he played football and participated in the Junior Class Play.
He enlisted in the Air/Naval Reserves his Senior year and graduated from high school in 1951. After graduation he continued in the Air/Navy and was stationed at the Naval Air Station in Olathe, Kansas. He was part of the Ordinance Department.
He was married to Mary Ann Booth on June 12, 1955, and remained married to Mary Ann for 64 years. They made their home in Paola, Kansas. They became parents of a son; Kent Thornton in 1961, and in 1965 they became parents to a daughter; Angela Thornton.
Lon worked as an engineer at Labconco in Kansas City, Missouri until 1974. After being laid-off in 1974 he worked odd jobs in Paola, until he joined the Missouri Pacific/Union Pacific railroad as a Brakeman in 1976. He later became a Conductor and in 1993 he retired from the railroad.
Lon's hobbies included, wood carving, fishing, camping (and campfires), gardening, boating and refinishing furniture.
He was a member of the First United Presbyterian Church where he was a deacon and an elder, later he became a charter member of the Lighthouse Presbyterian Church. Throughout his years he was involved in Weblos, an Assistant Scout Master of Troop #100, where he received his Wood-badge and also an Assistant Scout Master of Troop #111. He was a member of Mic-O-Say, coached Little League Baseball, was a member of the Masons for a few years, and a member of the Lions Club.
He was preceded in death by his parents and four sisters; Reba, Adee, Billie and Lois.
He is survived by his wife, Mary Ann of Paola; his son, Kent and his wife Kay of Paola; his daughter Angela and her husband Mark Matthews of Cassville, Missouri; 4 grandchildren, Kira Thornton, Kayla Thornton, Thornton (TJ) Matthews and Marissa Matthews; and one great-grandson who also shares his birthday, Ronan Austin. He loved his grandchildren and the time he spent with them. They always could put a smile on his face.