OLIVE LYONS ANDERSON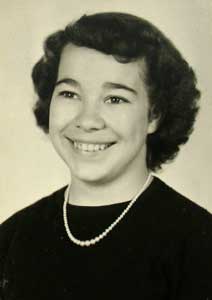 CLASS OF 1951
OCTOBER 29, 1932 - SEPTEMBER 29, 2013
Olive A. Anderson, 80, died at home on Sunday September 29, 2013. Born October 29, 1932 in La Junta, CO, she lived in Vista, CA for 47 years. She was the daughter of Thomas and Mable Ann (Wilber) Lyons.
She was a CNA for Tri-City Medical Center for 16 years and worked in the medical industry for 22. She retired in 1995 and traveled for some time.
Mrs. Anderson is survived by her sons, Robert C. Anderson of San Diego, CA, Steven T. Anderson of La Mesa, CA. daughter Elizabeth (Liz) Parker of Oceanside and two grandchildren.
A memorial will be held at 11am on October 12th at Vista Assembly of God Church and then a private interment at Eternal Hills Mortuary.