JUANITA LUCILLE KOLOSIK GREGORY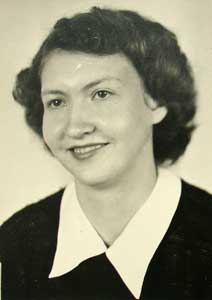 CLASS OF 1951
JULY 1, 1933 - JANUARY 18, 2018
Juanita Lucille Gregory, age 84, of Osawatomie, died Wednesday January 18, 2018, at her home.
Juanita was born July 1, 1933, in Hoisington, Kansas. She was the third of four children born to Willis Wesley and Ellen Elizabeth (Evaleigh) Kolosik. She grew up in Osawatomie, where she attended school. She graduated with the Osawatomie High School, class of 1951.
After high school, she worked for her brother at the drive-in and then at the movie theater in Paola. She also was a receptionist at State Farm Insurance.
Juanita and Marvin Gregory married in 1960. They made their home in Olathe, Kansas. Together they had three daughters, Joyce, June and Judy. The marriage later ended in divorce.
In 1969, Juanita moved back to Osawatomie with her daughters and worked as a homemaker and raised her girls. She was a great cook. She was famous for her gravy and was always in charge of making it at the holidays. She enjoyed gardening and canned all that she harvested. Juanita loved playing cards and was a chocoholic. She would eat a Herseys bar a day. No matter who it was, when you left Juanitas, she would always say Call me when you get home. If you forgot, she would call you after a while to make sure that you got home safe. She was a member of the 1st United Methodist Church of Osawatomie and the VFW Womens Auxiliary.
She was preceded in death by: her parents; two brothers, John Wesley Kolosik and Harold Leroy Kolosik; and one grandson, Jacob Godfrey.
Survivors include: her three daughters, Joyce (Mike) Stiles, of Osawatomie, Jane Ellen (Scott) Gregory-Attebery, of Osawatomie, and Judy (Gregory) Doherty, of Paola, Kansas; sister, June Marie Kolosik; six grandchildren, Shannon (Danny) Moser, Matthew Godfrey, Shaun Diaz, Joshua Attebery, Michael Attebery and Erica (Travis) Allen; 12 great-grandchildren; along with other family and friends.
Services were January 20, 2018, at the Eddy-Birchard Funeral Home, followed by cremation and burial of ashes at a later date in Osawatomie Cemetery.
Memorials are to Vitas Hospice or Autism Speaks, and may be sent in care of Eddy-Birchard Funeral Home P.O. Box 430, Osawatomie, KS 66064. As published in the Miami County Republic.