CLAUDE WAYNE ICENOGLE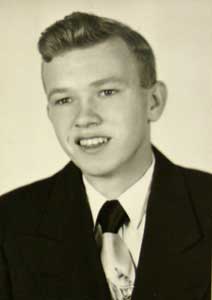 CLASS OF 1951
OCTOBER 11, 1933 - OCTOBER 15, 2016
Claude Wayne Icenogle 83 died October 15, 2016 at Colmery O'Neil Hospital in Topeka, Kansas. He was born October 11, 1933 in Osawatomie, Kansas to Charles Otto and Helen Marie (Rice) Icenogle.
After High School, Wayne joined the Navy where he played basketball.
Upon returning home, he attended Baker University where he received his Degree in Education. He taught school and coached basketball in DeSoto, Kansas until he went to work as a Service Officer for the American Legion at the Leavenworth Kansas Veterans Administration Hospital. He then became a National Field Representative for the American Legion working out of Washington D.C. In 1965 he transferred to Topeka, Kansas covering Veteran Administration Medical Centers in multiple states.
In 1969 he went to work managing and eventually owning KFC and Wendy's Restaurants.
Wayne was a member of multiple service clubs and fraternal organizations. He was a life time member of the American Legion and a Past Department Commander for the state of Kansas.
After retirement he enjoyed being with his family which included Lois (Warner) Icenogle, son Wes (Cathy), daughter Krysti (Bernie) Lusk, 5 grandchildren and 10 great grandchildren, raising tomatoes, and roses.
He is survived by a sister, JoNell Bingham and all above listed family members along with multiple nieces and nephews. He was preceded in death by his parents and 3 siblings.
A memorial service will be at 1:00 P.M. Friday, October 21st at Lowman United Methodist Church, 4000 SW Drury Lane (15thand Gage) Topeka, Kansas.
Memorials may be sent to Midland Hospice House or The American Legion Capital Post #1.