ORVILLE GENE HUNSPERGER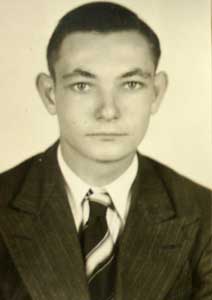 CLASS OF 1951
JUNE 14, 1932 - DECEMBER 8, 2009
Orville Eugene "Gene" Hunsperger, age 77, native of Osawatomie, Kansas died December 8, 2009 at his home.
Gene was born June 14, 1932. He was the son of Orville and Ethel (Hastings) Hunsperger. He grew up in Osawatomie and graduated from Osawatomie High School with the Class of 1951.
Gene worked for Taylor Forge in Paola, Kansas as a roll operator. He began his employment there in 1964 and retired in 1990.
He served his country with the United States Army for three years during the Vietnam and Korean conflicts having spent time in Germany and Austria. Gene was honorably discharged on April 24, 1961.
He was preceded in death by his father in 1983, his mother in 1992, and his older brother Owen in 2008.
He is survived by his two brothers and their spouses Jim and Ruby of Osawatomie and Bob and Virginia of Garnett; his sister Orvella Badders and her husband Gerald of Osawatomie; his nephews, nieces, and their spouses Bruce and Rachel, Brian and Crisanne, and Brandon and Tara Badders all of Osawatomie; Cody & Krysti, Bret & Shirley, and Mary Beth Hunsperger all of Osawatomie; Brenda Robertson of Joplin; Donna Marie Linn of Uniontown; Randy Hunsperger of Yates Center; Melody Cooper of Uniontown; Robert Hunsperger of LaCygne; and Phyllis Hooker of Borger, Texas; other relatives and friends.
Funeral services will be held at 6 p.m., Sunday, December 13, 2009 at the Eddy-Birchard Funeral Home in Osawatomie with military honors. Visitation will follow from 6:30 to 8 p.m. Cremation will follow. Memorials are to the Gene Hunsperger Memorial Fund.