DONNA HEWITT STONE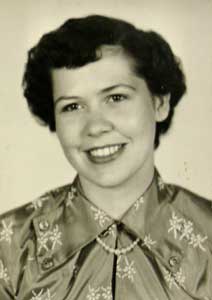 CLASS OF 1951
DECEMBER 4, 1933 - JULY, 1982
Donna Marie Stone, Route 2, Osawatomie, died Saturday in the University of Kansas Medical Center, Kansas city, KS after an illness of several months. She was 48.
Memorial services for Mrs. Stone were held in the Eddy-Birchard Funeral Home.
The daughter of B. J. andAda Heckadon Hewitt, she was born December 4, 1933 in LaCygne and grew up in the Osawatomie area. She attended Fairview School and graduated from Osawatomie High School with the Class of 1951.
She married Merle D. Stone November 11, 1951 in Osawatomie and they were parents of five children.
Mrs. Stone was employed by Osawatomie Unified School Districk 367 and worked in the food service department at the Osawatomie Junior High School.
She was a member of the United Methodist Church of Osawatomie and of Osawatomie Chapter No. 26, Order of Eastern Star
Preceding her in death was a brother, J. W. Hewitt.
Among the survivors are her husband, Merle, of the home; her children, Chester Wayne Stone, Oklahoma city, OK, Wesley Duane Stone, Osawatomie, Darryl Lee Stone, Shawnee Mission, Damon Lynn Stone, Emploria, and LaVonna Marie bowman, chicakasha, OK; her parents, Mr. and Mrs. B. J. Hewitt, Osawatomie; three sisters, Doris Vasquez, Osawatomie, Ruby O'Connor, Greeley, and Beverly Metz, Emporia; and four grandchildren.
The Rev. Gerald Toburen officiated at the services. Music was provided by Nelle Dollar and I.H. McMahon. Burial was in Osawatomie Cenetery.
A memorial has been established in her name to the American Cancer Society.