JAMES ALBERT YORK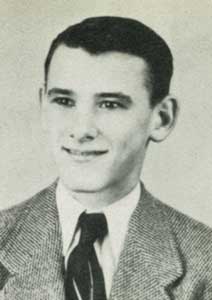 CLASS OF 1950
OCTOBER 29, 1932 - APRIL 7, 1961
Funeral services for James Albert York, 28, son of Supt. and Mrs. George A. York of Osawatomie, were held Tuesday afternoon in the Methodist Church. The Rev. A. Otis Beach officiated.
He died Friday in a Granville hospital from self-inflicted wounds. He had been in a depressed state of mind recently.
An instructor in piano at the Denison University Conservatory of Music, York was born October 29, 1932 in Osawatomie. He was educated in the local schools and during this time became seriously interested in music by studying at the Kansas City Conservatory.
He graduated from the University of Kansas in 1954 with a Bachelor of Art Degree in music and being voted Degree in music and being voted the outstanding musician in his class. He was a member of Pi Kappa Lambda music fraternity and Lambda Chi social fraternity.
He joined the Osawatomie Methodist Church on March 18, 1951. Upon graduating from K.U., he entered the Air Force and served in Roswell, N.M. and on Guam.
He was married to the former Miss Martha Neck at Roswell on August 20, 1955.
Upon leaving the service, he entered the University of New Mexico Graduate School. In the spring of 1958 he received his master's degree in music education. He then began teaching in the Albuquerque schools, In the fall of 1959 he was appointed instructor of music in piano at Denison U. While there he was organist at the Methodist Church and did concert work, both as a pianist and as an accompanist.
In addition to this parents, survivors include the widow, Martha; two children, Ann Elizabeth and Paul Andrew; two sisters, Martha Lee and Mary Lou; and one brother, George.
Mrs. Betty MacPherson and Mrs. Nell Dollar provided the music. Friends assisting with flowers were Anna Lee Billam, Eleanor Manley, Joyce Pennock, Rita Hayden, and Peggy Mathia. Pallbearers were S. M. Steele, J. Henry Reb, Clyde Seales, Raymond G. Renoe, Milton Skeens and William W. Eddy, Jr.
Graveside services and burial were in the Osawatomie Cemetery.