PEGGY WHITE MATHIS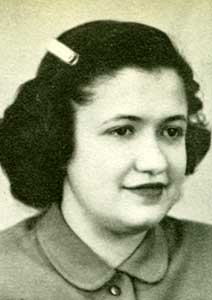 CLASS OF 1950
- MARCH 23, 2017
Peggy Ann (White) Mathis, 85, passed away Friday, March 23, 2018, in Paola, Kansas.
She was born on December 4, 1932 in Osawatomie, Kansas, to Lawrence and Adelene (Wilkerson) White.
Peggy spent her childhood in Osawatomie. She graduated from Osawatomie High School and attended the University of Kansas.
Peggy married Clyde Mathis, on February 14, 1959. They lived in the Paola area during their 59 years of marriage.
She was employed for many years at Citizens State Bank.
Peggy was a member of First Baptist Church in Paola, where she was active in Circle. Peggy enjoyed participating in church activities, cooking for her grandkids, volunteering at the animal shelter, gardening and watching sports. She loved her family and cheering for her Jayhawks!
She is survived by: her husband, Clyde Mathis; children, Nancy Mathis, of Leawood, Kansas, Brent and Emily Mathis of Ottawa, Kansas; grandchildren, Ashley and Chris Graves, of Henderson, Nevada, Erika and Blake Kelly, of Washington, DC; brother, Larry White, of Osawatomie.
Visitation for Peggy Mathis was held from 5 to 7 p.m. Tuesday, March 27, 2018, at Dengel & Son, 305 N. Pearl St., Paola, KS.
Funeral service will be 10 a.m. Wednesday, March 28, 2018, at First Baptist Church, 207 E. Wea St., Paola, KS.
In lieu of flowers, donations can be made to Meals on Wheels America, https://www.mealsonwheelsamerica.org/take-action/give and First Baptist Church of Paola.