MILTON SKEENS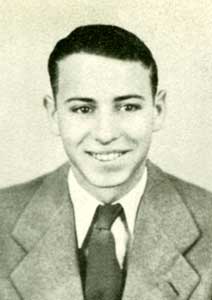 CLASS OF 1950
Milton Skeens, age 87, died on January 8, 2020, surrounded by family at Kansas City Hospice House where he peacefully spent his final days. He was born on February 8, 1932, to William and Hazel (Ricketts) Skeens in Miami County, Kansas. His mother died when he was four years old and his father traveled for his railroad job and so Milton was raised, primarily, by his sister, Marie Sheldon. He graduated from Osawatomie High School in 1950 where he starred on the football and basketball teams. He briefly attended Baker University before joining the United States Navy as each of his three older brothers had done. In the Navy, Milton served on the aircraft carrier U.S.S. Valley Forge during the Korean War. He then went to flight tower training, graduating first in his class, which allowed him to choose to be stationed at the Naval Air Station in Bermuda. Based on photos from his time in Bermuda, his service consisted of beers on the beach, golf and playing for a traveling Navy basketball team. After an honorable discharge from the Navy he returned to Baker where he played basketball, was a member of the Delta Tau Delta fraternity and, most importantly, met Mary Katherine McKenzie. Milton and Mary K. were married on September 5, 1958, and had two children, their son David followed a year later by daughter Ellen. After receiving his degree from Baker, Milton worked in the insurance industry as an adjuster and attended law school in the night school program at the University of Missouri – Kansas City, graduating in 1967. Milton was a trial attorney for the Missouri Highway Commission for many years after which he teamed up with longtime friend Will Bunch to form Bunch & Skeens, primarily doing criminal defense work until he retired.
Milton and Mary K. both loved the outdoors and moved in 1970 from Kansas City to rural Clay County, outside Liberty, where they raised David and Ellen and tended to a few cattle, Ellen's horse, innumerable house and hunting dogs and one cat. Milton was an adult leader in David's Boy Scout troop and is an Honorary Warrior in the tribe of Mic-O-Say. Milton was an avid hunter and fisherman. He hunted deer (the mount of a large buck he shot hangs in the general store in Iconium, Missouri) and turkey but he especially liked to hunt upland birds and watch his dogs work. He was an indiscriminate fisherman as the methodologies he employed included everything from a fly rod to noodling with a hay hook. He liked to play cards and pool for money and was good at it. In middle age, he and Mary K. became avid and accomplished snow skiers. His brother-in-law Bill McKenzie recently and accurately said of Milton: "He has always been so good at anything he did: playing cards, golf and all other sports. Good at everything and smart as a whip, clever and witty." And he especially liked to have a good time; always ready for a cocktail (or two) and a party.
In 1995, Mary K. succumbed to cancer after a valiant fight (with Milton at her side) which changed their plan to retire to a farm property in the Ozarks, outside Osceola, Missouri. Milton did build a house on that property and practiced law as a "country lawyer" for several years before moving to south Kansas City in the early 2000s where he lived, independently, until just prior to his death. In his later years he attended or followed the sports events of his grandchildren, was proud of their many academic and athletic achievements and spoiled them greatly each Christmas.
Milton was preceded in death by his parents; wife Mary K.; grandson Matthew Skeens; sisters and their husbands: Helen and Bill Wheatley, Virginia and Bob Fries and Marguerite and George Sims; brothers Warren Skeens and Bill Skeens (Beulah); brothers-in-law James McKenzie and J.G. Sheldon; and second wife Geneva (Lykins). Survivors include his children David (Melissa) and Ellen Fairchild (Brian), grandchildren Rachael Skeens, John Fairchild and Katie Fairchild, sister Marie Sheldon, brother Don Skeens (Mary), sister-in-law Charlotte McKenzie, brother-in-law William McKenzie (Doyne) and a host of nieces, nephews and cousins. Milton is also survived by his companion Catherine Lewer, with whom he was blessed over the last fifteen years to spend many hours traveling, dining, going to shows or just watching Wheel of Fortune, the Chiefs and the Royals. He is also survived by his beloved dog Jazz.
Milton is a Christian and was long-time member of The Kirk of Kansas City. He did not fear death and often remarked that he looked forward to an afterlife and being reunited with those that had gone before him. The family will receive guests from 10 to 11 am on Saturday, January 18 at The Kirk of Kansas City, 11430 Wornall Road, Kansas City, MO 64114 with a service to follow. There is no interment as Milton wished to be cremated. The family is grateful for Ezekiel from Home Instead whose care allowed Milton to continue to live at home these past few years and who became Milton's friend, and for the compassionate care Milton received from the staff and volunteers at Kansas City Hospice House. In lieu of flowers, the family suggests donations to The Kirk of Kansas City, Kansas City Hospice House or a charity of your choice.