MARIETTA JANE (HANEY) FOWLER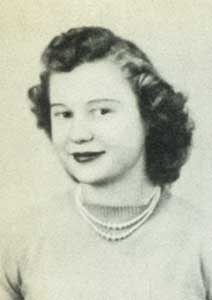 CLASS OF 1950
Marietta Jane Fowler, 86, Topeka, Kansas, passed away Monday, July 9, 2018.
Marietta was born March 16, 1932, in Osawatomie, Kansas, the second child of Frank Sr. and Pearl Cunningham Haney. She married Gene McConnell in 1949; they later divorced. In 1996, Marietta and Donald Fowler were married; he died in 2011.
Marietta was a member of Lowman United Methodist Church, Shrine Ladies of Arab Temple, Eastern Star, Beulah Chapter 34, Medianns Auxiliary and Women of the Moose.
She thoroughly enjoyed her 21 year career in banking which she entered later in life, retiring from Merchants National Bank in 1995.
First and foremost in Marietta's life were her children for whom she cared with unwavering love and energy. She was dearly loved and will be greatly missed.
Grateful to have shared her life are her four children: son, Mel McConnell (Pam), Bend OR, and their children, Ally and Catilyn; daughter, Linda Hicks (Calvin), Topeka KS, and their daughter, Shelly Applegate (Bill) and their daughters, Olivia and Heather; son, Dennis McConnell (Lori), Eugene OR, and their children, Chelsea and Brice; and son, Marc McConnell, Myrtle Creek OR, and his children Kiah, MacKenzie Jane, and Kade.
Marietta was also preceded in death by her son, Wayne Eugene McConnell, granddaughter, Jennifer Lee Hicks and her six siblings, Frank Jr., Ray, Arthur, Louis, Doris and Karl.
A Celebration of Marietta's Life will be Saturday, July 14, at 11 a.m. at Kevin Brennan Family Funeral Home, 2801 SW Urish Road, Topeka KS 66614. Visitation will be one hour prior to service.
Burial will follow at Mount Hope Cemetery.