DORIS BRATTON MEINKING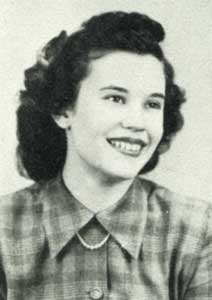 CLASS OF 1950
Doris Jean Meinking, 84, of Topeka, passed away Tuesday, February 7, 2017.
Doris was born March 31, 1932 in Miami Co., Kansas, the daughter of Walter and Beulah (Miles) Bratton.
She was a 1950 graduate of Osawatomie High School and attended Baker University in Baldwin City, KS. She was a member of Faith Lutheran Church of Topeka.
Doris married Henry Hank Meinking on June 22, 1952 in Paola, KS. He preceded her in death on January 16, 2013.
Survivors include four children, Mary Sands, Ruth (Rich) Meinking, Russell (Kathy) Meinking, Jolene (Bob) Yunger, ten grandchildren; four great-grandchildren; and one brother, Richard Bratton (Carol).
She was preceded in death by her parents, Walter and Beulah Bratton and two sisters, Erma Lee Ellis and Wilma Peak. Doris was cremated. A memorial ceremony was held February 11, 2017 at the Penwell-Gabel Mid-Town Chapel, 1321 SW 10th Ave., Topeka. Inurnment was at Mt. Hope Cemetery, Topeka.
Memorial contributions may be given to The Audubon Society.