LORIN RANDALL MULLINS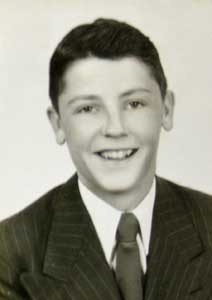 CLASS OF 1949
Lorin Randall "Moon" Mullins was born on March 11, 1931, in Osawatomie, Kansas to Lorin James and Virginia Mullins.​ He passed away on February 6, 2020, at his home in Leesville, LA.​
Moon served in the US Air Force for 20 years, retiring at the rank of Master Sergeant. His military service included several overseas tours where he worked in Greenland and Japan as a military cryptologist during the Cold War.​ Following his military service, he served as a civilian employee for the US Army and the US Air Force as a computer systems analyst, retiring with over 36 years of federal service.
Moon served in a variety of leadership roles in Boy Scouts of America and in the Masonic Lodge during his military service in the US and abroad. He continued to be active in the Masons following his retirement from the US Air Force. Most recently, he was a member of the Pickering Masonic Lodge #477 where he served as lodge secretary.​ He was honored to serve his country and community in these roles.
He loved Pickering Red Devil football and enjoyed serving pancakes to the football players as well as traveling on Friday nights to watch them play.​ He cherished his connections over the years with his high school classmates from the Osawatomie High School Class of 1949 and attended annual class reunions as often as possible. Each of his grandchildren were very important to him, and he loved to talk about them and their accomplishments.​ He will be greatly missed by all those who knew and loved him.
Moon was preceded in death by his parents Lorin J and Virginia Mullins, sisters Priscilla Moore and Martha Dushay and by his first wife Barbara O'Hara Mullins.

He is survived by his wife, Shirley Mullins, of Leesville, LA
Son, Lawrence Mullins and wife Karen of Pearland, TX
Daughter, Maurenne Griese and husband Carl of Manhattan, KS
Stepchildren, Doug Bowers, of Leesville, LA and Linda Domee of La Porte, TX
Brother, James Mullins of Lawrence, KS
Sisters, Barbara Kennedy of Paola, KS and Brenda Sheets of Guymon, OK
Grandchildren, Virginia, Benjamin, Ethan, Christina, Abigail, Herman, Crystal and Andy
Great granddaughter, Chloe
Brother-in-law, Pat O'Hara and wife Johnette of Pickering, LA
Brother-in-law, Robert O'Hara of Lake Jackson, TX