FRANKLIN HOUSTON AUSTIN JR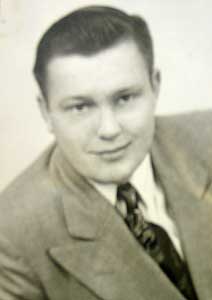 CLASS OF 1949
Visitation: 6-8 pm Friday October 11, 2019 at the Eddy-Birchard Funeral Home
Service: 10 am Saturday October 12, 2019 at the Eddy-Birchard Chapel
followed by cremation and burial of ashes in Arlington Cemetery
Memorial: United Services Organization
send c/o Eddy-Birchard Funeral Home
P.O. Box 430
Osawatomie, KS 66064
_______________________________________________________________________________________
Franklin Houston Austin Jr. age 87 of Ottawa, KS died Thursday October 3, 2019 in Englewood, Colorado.
Franklin Houston Austin, Jr. was born December 28, 1931 to Permelia Lee Carson Austin and Franklin Houston Austin, Sr., in Paris, Arkansas, Frank was raised in Osawatomie. KS. Graduating From OHS in 1949. Franklin attended the University of Kansas, Majoring in Civil Engineering and was a member of the Lamda CHI Fraternity, KU Football Squad and the Air Force ROTC.
After graduation, in 1954 Franklin joined the United States Air Force and was commissioned as a 2nd Lieutenant. In 1955, Frank completed Pilot training at Hondo, Texas and was assigned to Vance AFB Enid Oklahoma where he was awarded his Pilot wings and Flew B-25 Bombers. From 1957-59 Franklin was an Instructor Pilot. In 1959 Frank was re-assigned to Randolph AFB, San Antonio, Texas for KC97 Training. The Stratofreighter, was a strategic tanker aircraft. From 1959-61 Frank was assigned to Malestrom AFB, Great Falls, Montana. He was a Pilot and Instructor Pilot for the KC97 and received His Senior Pilot Wings. 1961 led him to Walker AFB in Roswell, NM. It was here he received Combat Crew Training for the KC135 Stratotanker. From 1962 thru 1965 Frank was assigned to Bergstrom AFB in Austin, TX with the Strategic Air Command as a Pilot and Instructor Pilot for the KC135 and received his Command Pilot Wings. He flew a total of eight combat missions in support of the Cuban Missile Crisis. From 1965-1971. He was assigned to Ellsworth AFB, Rapid City, SD. SAC as an Instructor Pilot KC135. He flew Missions from Kadena AFB. Okinawa Japan with 87 Combat Missions Vietnam, Ching Chuan Kang Air Base in Taiwan. Tackli AB Thailand and Utapao AB Thailand. 1971 sent Frank to Shaw AFB in Sumpter, South Carolina Tactical Air Command as a Pilot for the RF4C Phantom Fighter. In 1972 Franklin was assigned to Tan Son Nhut Air Base, Saigon, and Republic of Vietnam as the 7th Air Force Tactical Air Control Center. He Blue-Chipped controlled all Air Refueling/Tactical Fighter Strikes/Air Rescues in Vietnam. Caused the 1972 North Vietnam Easter Offensive which led to the 1973 Truce. From 1973-1975 Frank returned to the United States Assigned to Cannon AFB, Clovis, NM. Frank was the Squadron Commander of the 27th Civil Engineers and Chief of Operations & Maintenance for the 27th Tactical Bomb Wing and the FB11's. Frank retired from the USAF in 1975 achieving numerous awards including the Bronze Star, The Air Medal, The Joint Service Commendation Medal, Air Force Commendation w/1 OLC, Air Force Outstanding Unit Ribbon w/ 3 OLC, The Combat Readiness Medal, The National Defense Service Medal. The Vietnam Service Medal, the Air Force Longevity Service Ribbon w/4 OLC, Air Force Small Arms Expert Marksmanship Ribbon and the Republic of Vietnam Campaign Medal. Franklin was Awarded Air Force Pilot Wings, Senior Pilot Wings, and Command Pilot Wings.
Franklin met and married Marie Barbara Ammons in Enid, Oklahoma in 1957 together they had four children Sallie Marie was born at Randolph AFB in 1959, Susan Lee was born at Malmstrom AFB in 1960, Barbara Renne' was born in Great Falls Montana in 1961, Franklin Houston IV was born at Bergstrom AFB in 1963.
After his retirement Frank returned to Kansas where he and Marie raised their four children. Frank worked the family farm and returned to college obtaining an MBA from Rockhurst University, KCMO. He subsequently built a retirement Cabin and resided part time in Pitkin, Colorado. There he and Marie enjoyed many wonderful years of relaxation and enjoyment of mountain Life.
Preceded in death by his wife Marie Barbara Austin, parents Permelia Lee Carson Austin and Franklin Houston Austin, Sr. and sister Marilyn Lehman Austin.
He is survived by his one son Franklin H Austin IV Parlin, CO; three daughters Sallie Marie Austin- Swanson of Pitkin, CO, Susan Lee Austin-Leecy of Ottawa, Kansas and Barbara Renee' Austin- Garrison of DeSoto, KS; four grandchildren Tracy Lynn Strickland, Kurtis Ray Michael, Matthew Eugene Swanson and Cole Austin Oberg, seven great grandchildren Micah, Austin & Luke, Chevelle, Connor, Brady & Paxton. Along with other family, friends and a special thanks to Tina Koger for taking care of Frank for the past year so he could stay at home.