NADINE "MINNIE" (DELA CRUZ) MEDINA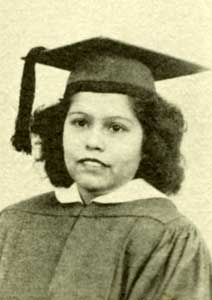 CLASS OF 1948
Memorial: St Philip Neri Catholic Church
send c/o Eddy-Birchard Funeral Home
P.O. Box 430
Osawatomie, KS 66064
___________________________________________________________________________________
Nadine "Minnie" Medina age 90 of Osawatomie, KS died Thursday December 5, 2019 at Hoeger House in Olathe.
Minnie was born February 13, 1929 in Osawatomie, KS. She was the fifth of ten children born to Augustine & Nicolasa Garcia (Toledo) Dela Cruz. She grew up in Osawatomie where she attended school. Graduating with the Osawatomie High School Class of 1948.
After high school, she worked at Howard Davey's City Laundry, cleaned houses and was a care taker. Her main job throughout her life was a homemaker. On May 20, 1950, Minnie and Joe Medina were united in marriage at the St. Philip Neri Catholic Church. Together the couple had three children, Patricia, Anthony and Michael.
Minnie loved being in the kitchen. She was famous for her tamales and enchiladas. Minnie made wonderful homemade pies and with the leftover dough she would make what her family called "Jesus Bread". They all wanted that piece. Minnie and Joe enjoyed gardening they grew their own peppers and would roast them on the grill. Also they grew cactus or would find a cactus patch. Joe would put on a heavy glove and clean the prickles off then Minnie would clean it and cook it which is called nopales.
She was a member of the St. Philip Neri Catholic Church. Minnie was a member of the VFW Auxiliary 2258 and the CCW Auxiliary.
She was preceded in death by her husband Joe, her son Anthony, brothers Jesse, Salvador, Albert, and Pete, sisters Carmen Fairman and Florence Reese.
Survivors include daughter Patricia Berry of Olathe, KS, son Michael (Coleen) Medina of Osawatomie, KS, five grandchildren Kelccey (Dylan) Manchester, Kody Medina, James (Carol)Berry Jr, Michael(Marina) Berry and Latricia Berry, eleven great grandchildren Zoey, Henry, Jasmin, Jaqulaine, Jayde, Vickie, Michael Jr, Jalan, Terrell, Taylor and Tahlise and five great grandchildren. Sisters Juanita Fonseca of Gardner, KS, Elizabeth Romero of Lawrence, KS and Pauline Wilson of Las Vegas. Along with other family and friends.