ROBERT J. HAYS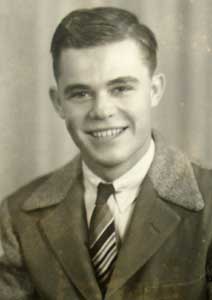 CLASS OF 1947
Visitation: 1-2 pm Monday followed by
Service: 2 pm Monday May 13, 2019 all at the Eddy-Birchard Funeral Home
Burial: Green Valley Cemetery
Memorials: Green Valley Baptist Church or Mid America Nutrition
send c/o Eddy-Birchard Funeral Home
P.O. Box 430
Osawatomie, KS 66064
Robert J Hays, age 89, died May 9th, 2019 at home in rural Osawatomie. He was born in rural Miami County, Kansas on October 14, 1929, the fourth of eight children born to Walter R and Violet Moraine Hays.
After graduating from Osawatomie High School with the Class of 1947 he went to work at the Thompson Ford Dealership as a mechanic.
On June 4th, 1950, he married his high school sweetheart Wilma Tice. They had two daughters Vicki and Marilyn. He became a full time farmer and dairyman operating a Grade A Dairy in 1957. He eventually sold his dairy herd and became manager of the Osawatomie Coop for seven years, then finished his working career as a security guard at the Osawatomie State Hospital, all the time continuing his passion to farm and work the land.
He believed in serving the community in which one lives and served on the School Board of the Green Valley rural school district and the USD #367 School Board during the unification and consolidation of the rural schools into USD#367 and building of the current High School. He was one of the original members of the Rural Fire District Board and served on that board for 32 years. He was a member of the Green Valley Baptist Church having served in the positions of Deacon and Trustee. He was ever passionate for the civic rights and equal opportunities for rural citizens.
Robert, along with his siblings, spent most of his childhood at the Osawatomie Lake and Golf Course working alongside his father who was the superintendent during the building and management of the area. Many of his childhood memories were built around hunting, fishing and farming the Maris des Cygne River and area. It was this childhood that instilled his determination and work ethic.
His love was for God and family, his passion was for farming.
He was preceded in death by his parents, infant granddaughters Candie and Sandie Day, three brothers Raymond, Bill, Walter LaVelle, and an infant sister Deanna. He is survived by his wife of the home Wilma, his daughters Vicki, and Marilyn husband Sam Shipley, grandsons Jarred wife Mindy Shipley, Dustin wife Amy Shipley, step granddaughter Keira Shipley-Welter; four great-grandchildren Cody, Miley, Kaley and Jacelyn Shipley and three step-great-grandchildren Kyrsha, Salyn and Addison Welter. Other family includes sisters Ona Mae Neuenschwander and Linda Carter and brother Charles, many nieces, nephews, cousins and friends.