CLARON COOK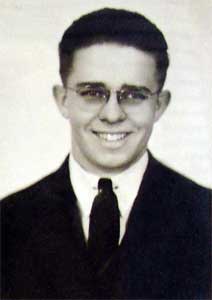 CLASS OF 1945
June 28, 1927 - September 25, 2018
Memorial Service: 11 am Saturday October 13, 2018 at Eddy-Birchard Funeral Home
Burial of ashes at Judy Cemetery near Garnett, KS.

___________________________________________________________________

Claron Cook, 91, the son of Ernest and Winona (Arnett) Cook, died Sept. 25, 2018 in Grand Junction, CO. He was born June 28, 1927 in Osawatomie, KS. He and Jean (Hewitt) Cook were married on Aug. 9, 1946 in St. Paul, MN. To them were born 5 children. He is preceded in death by an infant daughter and an infant son, Don Ralph Cook, brother Edwin (Lorraine) Cook and sister Shirley Cook-Troutman. Claron is survived by his wife Jean and three daughters Mary Fulk (Jeff), LaCygne, KS, Caralyn Strade (Terry), Grand Junction, CO and Gail Ahrens (Jeff), Ferguson, MO. He has 10 grandchildren, Nathan, Jonathan, Alisha, Katie, Cassie, Andy, Sean, Chris, Amy and Emily. He had 17 great grandchildren. Claron was a WWII Army veteran. He was employed 25 years for Missouri Pacific Railroad. He was a part time police officer and sold American Family Insurance in Pleasant Valley, MO. He retired in 1991. Claron and Jean did a lot of traveling after his retirement.