HELEN MARIE (SAGE) CARTWRIGHT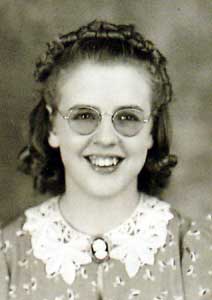 CLASS OF 1941
Visitation: 1-2pm Sunday, November 10, 2019 at Eddy-Birchard Funeral Home
Service: 2pm Sunday, November 10, 2019 at the Eddy-Birchard Funeral Home
Burial: Green Valley Cemetery
Memorial: In Lieu of flowers, please consider the following memorials: First United Methodist
Church of Osawatomie, Miami County Cancer Foundation, Alzheimer's Association..
send c/o Eddy-Birchard Funeral Home the Eddy-Birchard Funeral Home
P.O. Box 430
Osawatomie, KS 66064
--------------------------------------------------------------------------------------------------------------------------------
Helen Marie (Sage) Cartwright, age 97, died Thursday, October 31, 2019 at her assisted living residence at Vintage Park of Osawatomie. She passed peacefully in her sleep as she hoped would happen.

Helen was born on October 7, 1922 in her parent's home near New Lancaster, Kansas. She and her sisters [Fern (Sage) Whitney and Mildred (Sage) Lambert] were the children of Clarence Smith Sage and Jessie Marie (Parker) Sage. She attended Mission and Hawkeye Elementary Schools near Paola, Kansas, and graduated from
Osawatomie High School in the class of 1941.

After graduation, she worked at Cokers store in Osawatomie in the grocery department where she met her future husband, Harold Cartwright, who delivered groceries. Harold joined the Army during World War II. After he returned, they were married on March 14, 1948. They made their home in Osawatomie, Kansas where they raised their two children, Patricia Marie Cartwright and Steven Glen Cartwright.

Helen was a seamstress from 1963 to 1977 working for Mode O Day in Osawatomie and Loungecraft in Paola. She also made clothes for her family and made beautiful hand pieced and quilted quilts. She also crocheted, tatted, counted cross stitched, did ceramics and embroidery. Most recently has enjoyed putting picture puzzles together at Vintage Park.

Helen was a hard worker and helped Harold in farming tasks. She drove the tractor for bailing hay, worked with and chased cattle, and other farm related tasks. She was a member of the Green Valley Social Club, Red Hat Society, and the First United Methodist Church of Osawatomie. She also square danced when her children were
younger.
Helen was preceded in death by her parents, her two sisters, her husband, he. daughter, sister-in-law, two brothers-in-law, and two nieces. She is survived by her son, Steve Cartwright (Carol) of Bartlesville, OK, two grandchildren and three great
grandchildren; son-in-law, Keith Crouch (Mary) of Paola, KS, two grandchildren and four great grandchildren; five nephews and one niece; and many fiends at Vintage Park of Osawatomie.