LORRAINE BERNICE (BUCKMAN) FIELDS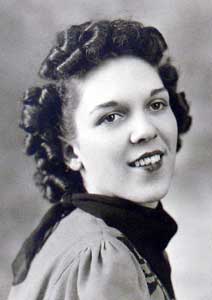 CLASS OF 1940
SEPTEMBER 26, 1921 - DECEMBER 7. 2018
Visitation: 10-11 am Saturday December 15, 2018
Service: 11 am Saturday
All at The Well Wesleyan Church of Osawatomie
Burial at Osawatomie Cemetery
Memorials: St. Jude's Children's Hospital or Good Shepard's Hospice send
c/o The Eddy-Birchard Funeral Home
P.O. Box 430
Osawatomie, KS 66064
Lorraine Bernice Fields, age 97 died on December 7, 2018 at Vintage Park Assisted Living Center, Osawatomie, Kansas.
She was preceded in death by her husband, E.H. "Jack" Fields, her parents, Lawrence John and Agnes Hazel Sinclair Buckman,
two brothers, James L. "Jim" Buckman and Lawrence Buckman, and one sister, Ilene Maloney.
Lorraine graduated from Osawatomie High School in 1940.
She was raised in the First Christian Church of Osawatomie.
On December 28, 1948 Lorraine and Jack were united in marriage in Fort Smith, Arkansas.
Survivors include the three children. Philip Fields and wife Linday, Oregon City, Oregon:
Phyllis Scott and husband John, Lake Charles, Louisiana and
Jackie Leach and her husband Larry, Osawatomie, Kansas.
Five grandchildren Jimmy (Lisa) Kerley of Paola, KS,
Krista (Scott) Joll of Belle Vernon, PA,
Linda (Colby) McMillan of Lantana, TX,
Lydia (Erin) Bouck of Flower Mound, TX, and
Karey (Richard) Lehnert of Carrabelle, FL, and
10 great grandchildren, along with many nieces and nephews.
She was a lifetime member of the Auxiliary of Veterans of Foreign Wars as well as Royal Neighbors.
She loved to travel and especially enjoyed having her grandchildren and great grandchildren around her.