PAULINE (SWEARINGEN0 BUMGARNER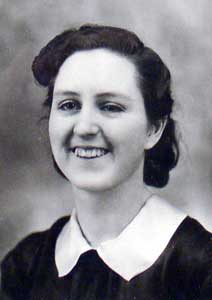 CLASS OF 1939
Pauline Bumgarner, 96, of Ottawa, Kansas, passed away Tuesday, December 5, 2017, at Ransom Memorial Hospital.
Graveside memorial services will be held at 10:00 A.M., Saturday, December 9, 2017, at Osawatomie Cemetery, 30430 W. 327th Street, Osawatomie, Kansas.
Pauline was born July 15, 1921, in Miami County, Kansas, the daughter of Kilby and Faye Marie (McCullough) Swearingen.
She lived in Miami County until moving in 1991 to Ottawa.
She graduated from Osawatomie High School with the class of 1939.
Pauline was united in marriage to John William Bumgarner, Jr. September 3, 1940, at Paola, Kansas. He preceded her in death April 5, 1982.
She was also preceded in death by her parents, Kilby and Faye Swearingen; and sister, Frieda Caylor.
Survivors include her five children, Betty Butler of Ottawa, Shirley Heinitz and husband Fred of Osawatomie, Richard Bumgarner and wife Suzi of Olathe, John Bumgarner and wife Joyce of Osawatomie, and James Bumgarner also of Osawatomie; sister Lourene Brassfield of Olathe; eight grandchildren; twenty great grandchildren; and great-great-granddaughter.
Pauline was employed in the dietary department at Osawatomie State Hospital and the Rainbow Unit in Kansas City, Kansas.
She previously attended Calvary Baptist Church, Ottawa.
Pauline loved making quilts for members of her family. She also enjoyed crossword puzzles and word searches.
The family suggests memorial contributions to Franklin County Diabetes Association c/o Dengel & Son Mortuary, 235 S. Hickory, Ottawa, Kansas 66067. Family and friends are encouraged to post their condolences and memories on Pauline's Tribute Wall at www.dengelmortuary.com