MARGARET EVA SHIVELY SMITH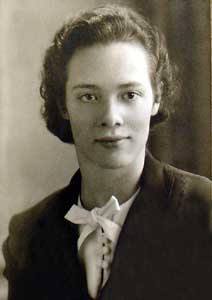 CLASS OF 1935
AUGUST 29, 1918 - AUGUST 24, 2017
Margaret Eva Smith, age 98, of Osawatomie, died August 24, 2017.
She was born August 29, 1918, to Irl R. and Celina E. Shively, on the family farm in Osawatomie. She attended Indianapolis Grade School and Osawatomie High School, where she played cello in the high school orchestra and accompanied the high school glee club on piano.
She attended Ottawa University for one year, before teaching at Fairview, Osage Valley and Meek Grade Schools. She then went to Kansas University, where she graduated June 29, 1944, with a Bachelors Degree in Music Education. She taught music at Miltonvale, Kansas, and later in Michigan.
She married Leon Ray (Mac) McNeven on June 26, 1946, in California, and they were the parents of two children, Maureen Lee and Morgan Irl McNeven.
Mac was in the Army and was transferred numerous times during the course of their marriage. Upon his retirement from the service, they moved to Michigan where Margaret once again took up her career as a music teacher. Margaret and Mac divorced on November 27, 1961.
Margaret married Raymond Earl Smith, September 5, 1966, but, sadly Raymond died just two months later, on November 22, 1966.
Margaret was a long-time member of her college music sorority, Order of the Eastern Star, local historical society, Daughters of the American Revolution and the First Baptist Church of Osawatomie.
She loved music and shared it often as accompanist. She also had a real passion for genealogy, and collaborated with her sister, Helen, to write several family histories. They discovered they had 15 patriots in the American Revolution. She became a source of information for distant cousins from all over the United States, and enjoyed an active correspondence with many of them.
Margaret is preceded in death by: her parents; her husband; and her two children.
She is survived by: her sister, Helen Marie Satzler and husband, Robert, of Sand Springs, Oklahoma, formerly of Topeka, Kansas; niece, Kyra Gail Hamilton and husband, Wayne, of Sand Springs, Oklahoma; niece, Jill Satzler Silbiger, of Marietta, Georgia; nephew, Timothy R. Satzler and wife, Nancy, of Oklahoma City, Oklahoma; three great-nieces; five great-nephews; three great-great-nieces; two great-great-nephews; and cousins of several generations.
Visitation will be held at 2 p.m. Sunday, September 3, 2017, at First Baptist Church, Osawatomie.
A memorial service will be held at 3 p.m. Sunday, September 3, 2017, at First Baptist Church, Osawatomie.
Memorial funds:First Baptist Church Osawatomie, and may be sent c/o Eddy-Birchard Funeral Home, PO Box 430, Osawatomie, KS 66064.