RICHARD 'DICK' SCHOWENGERDT

JANUARY 22, 1917 - OCTOBER 14, 2016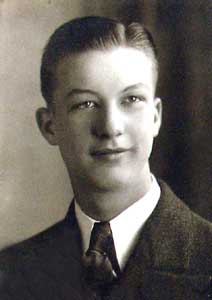 CLASS OF 1935
Richard R. "Dick" Schowengerdt, 99, passed away surrounded by family Oct. 14, 2016, in Paola.
Dick was born Jan. 22, 1917, in Osawatomie. He was one of seven children born to Leo Nicholas and Lucille Dearth Schowengerdt. He graduated from Osawatomie High School and attended college until his father was killed in a railroad accident.
He married Helen Irene Hennis on March 16, 1941, in Yuma, Ariz.
Dick served in the Army during World War II. He later owned Dick's Dental Laboratory in Kansas City, Kan., for many years.
He and Helen retired to Florida in 1978. Helen died April 20, 1981, after 40 wonderful years of marriage. Dick later married Florence VanWormer. They were married 27 years before she passed away in August, 2010.
Dick was an avid golfer and made eight holes-in-one, the last when he was 88. He played golf regularly until he was 93, when he moved back to Paola.
Dick was preceded in death by his parents, three brothers, three sisters and his wives.
He is survived by his three children, Margi Minden (Phil), Julie Kearney(George), and Rick Schownegerdt (Jane Ann). In addition, he is survived by his six grandchildren, Kyle Minden and Kristi Minden Harrison, Todd Schowengerdt, G.R. Kearney, Margaret Kearney Platt, Elizabeth Kearney Kramer; and 11 great-grandchildren, Chancie, Cooper, and Cate Minden, Tanner, Trevor, and Tatum Harrison, Cameron Schowengerdt, Liam, Kane, and Anne Kearney, Hennis Platt, and Baby Kramer who is expected April, 2017.
Dick was a member of the Masons for over 70 years and was also a member of the Shriners.
He was a well-loved resident of Vintage Park and was adored by his family for his generosity of spirit, quick wit, and never-ending sense of humor.
At his request, no service will be held. He was cremated and private graveside services will be held at a later date.
A special thanks to the wonderful staff at Paola Vintage Park.
Return to 2017 Memorials