Friends of Freda

Scholarship Fund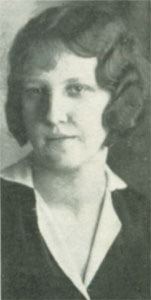 Upon her graduation from
Osawatomie High School in 1928
SPECIAL NOTICE: (January 2010)
The final distribution from this fund has been made.
When we started this fund to honor Freda Miller we kept it a secret from her. At the time of the presentation in November 2005 we had over one hundred names in the notebook which I prepared for her. More pages were added as former students, fellow teachers, friends and neighbors made contributions. She enjoyed reading the names and thinking and/or talking about each person. Her great-niece asked to keep the book after Freda passed away.
Before the first scholarship award was made Miss Miller set up the criteria which included being a current graduate of OHS and planning to enter the teaching field. For the four school years in which the awards were granted FOURTEEN students were given funds to help with their education expenses.
Thanks to all who contributed and helped to 'pass the word' to make the Friends of Freda project a success.
Sincerely,
Anna Lee
SPECIAL NOTICE: (April 2009)
The funds to honor Freda are just about gone. This will be the last year that scholarships will be awarded. If you wish to contribute for this last year, please send your check to:
"Friends of Freda"
P. O. Box 193
Osawatomie, KS 66064
A group of Freda's friends met with her at Life Care Center to announce that a scholarship fund had been established in her name. They presented her with a book listing the names of those who had donated. The following letter appeared in the Osawatomie Graphic documenting the event:
"As secretary of the Osawatomie High School Class of 1950 I wish to thank the employees of Life Care Center and the Graphic for participating in 'keeping our secret'.
When our class embarked on the Freda Miller Scholarship Fund project we wanted to surprise her with it which we did on November 17. With the help of many Osawatomie Alumni secretaries contacting their friends and classmates by telephone, e-mail, and U.S. Mail we were able to have a good balance in the account before sharing the news with Miss Miller.
But this is only the beginning! As more contributions are made new pages will be added to Miss Miller's notebook listing the names of her former students and friends. No amounts are shown. The names of the donors are also listed on her website. There is a link to her website as well as to the Graphic website from the Osawatomie Alumni website.
Soon she will be making decisions to set up the criteria for making awards from the scholarship fund.
Meanwhile she is enjoying reading the names and thinking about all the 'Friends of Freda'. This includes former students that she had in her 50+ years of teaching as well as friends, colleagues and neighbors.
Thanks to everyone for helping.
Anna Lee Billam, Secretary, OHS Class of 1950"
| | |
| --- | --- |
| | |
| | |
| --- | --- |
| | |
Donations may be sent to 'Friends Of Freda', Box 193, Osawatomie, KS 66064 or directly to the 'Friends of Freda', c/o First Option Bank, Account No. 09-36588, Box 277, Osawatomie, KS 66064-0277. Be sure to list all the names which are to be listed as.
Example: John Jones, Class of 1948; Jane Doe Jones Class of 1946; Jimmy Jones, former student; Suzie Jones, neighbor.
If the donor is not a graduate, please list connection such as: former student, friend, former faculty member, neighbor, parent of student, etc.
This scholarship is not affiliated with the OHS Alumni Association Scholarships or the Osawatomie High School Scholarships.
~ CONTRIBUTORS ~
Don Filiatreault, 1944
Faye Thompson Filiatreault, 1946
Bob Vess, 1944
Gertrude Jacobs Vess, 1944
Dick Vess, 1962
Bob Vess, II, 1963
Gary Vess, 1965
Cathy Vess, 1966
Dan Vess, 1972
John Billam, 1950
Anna Lee Price Billam, 1950
Terry Billam, 1969
Tom Billam, 1971
Tammy Billam Roseberry, 1979
Anna Faye Burkdoll-Parker, 1950
James R. Parker, 1950
Robert Haigh, 1953
Rita Griffith Schlesener, 1968
Nan Porter Borden, 1949
Raymond Borden, 1950
Norma Loch Stephens, 1946
Bill Wittenbrink, 1965
Janella Dever Wittenbrink, 1968
Lanie Wittenbrink Curtis, 1995
"Katie" Kathleen Ellis McDougal, 1953, in memory
of four former students at Crescent Hill country school:
Dorothy Ellis Servais, Gene Ellis, Vernon Ellis, and Keith Ellis
David McDougal, 1975
Douglas McDougal, 1979
Shirley Erickson, 1949
Norma Goodwin, Friend
Annie Piggott Bowersox, 1965
Dale Demastus, Former Student
Nancy Cowden Brownback, 1950
Vivien Latimer Hunter, 1960
Ted L. Hunter, Friend
Eileen Churchill Spears, 1946
Richard J. Frolik, 1973
Suzanne Frolik Wilcox, 1976
Staci WittenbrinkFlanagan, 1991
Larry Coker, 1953
Tom Coker, 1961
Pam Coker Green, 1973
Shelly Coker Holm, 1977
Larry Coker, Jr., 1979
Connie Gonterman Huggins, 1965
Bertha Pinneo Lanning, 1941
In memory of two 1928 classmates,
William W. Eddy & Nadine Demastus Eddy
Virginia Ellis Eddy, Friend;
Bill Eddy, 1950
Leroy Millard, 1952
Verna Landers Millard, 1953
James W. Van Horn, Jr. 1944
Rosalie M. Billhimer Van Horn, 1947
Doris Sechrest, 1952
The Family of Douglas McDougal, 1979
On behalf of a teacher colleague in
Osawatomie Junior High, Myrtle Wagers Erickson, 1923
Park Wayne Wagers, M.D., 1950
Betty Jo Case Cooper, 1950
Peggy Crowe Ward, 1942
Donald E. Beets, 950
Margaret Shively Smith, 1935 & Neighbor
Bill Peck, 1941
Ralph L. Wilson, 1956
Diane Dollar Wilson, 1958
Elizabeth J. Stout-Rhine, 1987
Ralph Sellmeyer, 1942
JoAnn Grimes Young, 1947
Max L. Young, 1943
Helen Belle Dallas Shepp, 1932
Barbara Findley McCall, 1949
Tom Speck, 1960
Sue Speck, Fellow Educator
Marvelle Cockran Dunaway, 1941
Ron Barden, 1967
Billie Jacobs Bryant, 1946
Bethel Reed Smith, 1928
Clifford E. Price, 1933
Peggy White Mathis, 1950
Carl Ingle, Friend
Sarah Ingle, Friend
Allyson Ingle, Friend
E. L. 'Arky' Thomas, 1944
Veria Achey Thomas, Friend
Martha York Carmichael, 1947
John L. Carmichael, 1946
Erma Crumpley Matteson, 1947
Willis O. Matteson, Friend
Betty Campbell Slusher, 1950
Evelyn Hunsperger Reading, 1942
Robert (Bob) Carey, 1950
Joan Cook Carey, 1950
OHS Class of 1958, Sharon Barnett Burgoon, Treas.
Leo and Violet Bristow, Friends
Ruth Ann Yocum Nutt, 1939
James L. Gilchrist 1950
In Memory of Jay R. Douglas, 1948
Dorthea Clift Douglas, 1950
Herbert L. Law, 1952
Gerry Sue Billam Law, Former Student
Joyce Henness Bumgarner, 1969
OHS Class of 1969
Jackie Powell Fixley, 1965
Ramalee Ricketts Beck, 1965
John W. Weaver, 1952
Carol Cragg Weaver, 1954
Carol Lee Fausett Hieber, 1942
Janet L. Buckman, 1983
Nieces & Nephews of Freda Miller
Ruth Reed Wrench, 1926
Howard Smith, Former Student
Helen Butts Winters, 1952
George A. York, Jr., 1956
Dorothy Billinger Evans, friend and
mother of three former students
Mr. & Mrs. Frank E. Elliott, Friends
Walt Hays, 1955
Margaret Hays Friend
Jane Wolken Elliott, 1967, In memory of
Roberta Day Wolken, 1946
Dorothy Cortner Heckart, 1948, In memory of
Charles 'Chic' Heckart, 1948
Shirley Crozier Thomas 1956
Kathy Kolosik Brakeville, 1975
Jared Walker, 1998
Brandon Walker, 2001
Veda Dickerson Day, 1931
Gary Read, 1957
Colene Carpenter Read, 1958
Eugene Caylor, 1955
Karen Barrett Caylor, 1958
W. R. "Bill" Butler, 1947
Betty Johnson Cohen, 1944
Erma Bratton Ellis, 1944
Ernest L. & Lurene Swenson, Friends
Ruth Nash Morrison, 1944
Mark Manly, 1948
Eleanor Haigh Manly, 1950
Jeff Young, 1968
Lois Manly Young, 1968
Alan Manly, 1971
Paula Brown Manly, 1971
David Manly, 1983
Vivien DeVore Barnard, 1956
Rachel Rothe Bauder, 1945
In memory of Layton Gray, 1928
Marie Geer Gray, 1932
Barbara J. Durham, EHU friend
Alvin Sharp, Sr., Former Student 1935-'936
Eugene Weide, 1953
Keith Weide, 1954
Kenneth Weide, 1954
Jack Weide, 1961
Pat Buchanan Mason, 1961
Connie Jo Anderson Wolfe, Teacher Colleague thirty years ago
Jeff Mourning, 1963
Patty Sullins Mourning, 1966
Fred Wicke 1953
Marie Ann Haigh Wicke, 1955
JoAnne Brooks Hays Stone, 1949
Brenda Jo Hays, 1971
Bill Hays, 1968
Merle D. Stone, 1949
Dorothy McDowell Hewitt, 1939
In memory of Gerald Law, 1944
Shirley Gillenwater Law, 1954
Bryan Law, 1983
Osawatomie-Paola Branch of
A.A.U.W., Jeanette Goedeke, Treasurer
Don Carpenter, 1962
Vicki Baughman Carpenter, 1965
Deana McClure, 1938 - Friend and fellow educator
Class of 1962
Joe Baughman, 1962
Merilee Roethel Baughman, 1962
Cheryl Smith Babcock, 1962
William L. Lewis, Retired Jr. High Principal
Mary Lou Lewis, Friend
Paralee 'Pat' Tyrell Howard, 1946
Frances E. Hays, Friend, Co-worker, Morning Caller
Andrew Phillips, Friend
Kara Hatfield, 1995
Homer L. 'Sam' Landers, 1945
Mary Lou York Roberts, 1945
Jim Roberts, 1942
Maxine Neuenschwander Long, 1939
Lowell W. Fairchild, 1956
Charles and Amanda Land, Friends
Donald Land, 1970
Robert Land, 1976
Juanita A. Brown King, 1952
Keith Weide, 1954
Stan Newcomb & parents, 1975
Charles 'Chuck' Brown, 1954
Jamie Demastus Engel, 1964
William 'Bill' Roseberry, 1978
Tammy Billam Roseberry, 1979
Sarah M. Roseberry, 2002
Amanda Jo Roseberry, 2006
Byron W. Harmony, 1954
James L. Gilchrist, 1950
Marjorie Farris Gilchrist, 1948
Kenneth L. Weide, 1954
J. G. Shelden, 1936
Marie Skeens Shelden, 1936
Rodney Madden, 1980
Tanya Fisher Madden, 1977
Zach Madden, '2005
Lacey Madden, '2006
Haley Madden, Friend
Darbey Madden, Friend
OHS Class of 1955, Judy Barrett, Sec.
Rachel Hawk Bolton, 1954
in memory of Edward E. (Bud) Bradford, 1954 and
James J. Murphy, 1970
Carol White Ayres, 1954
Howard O. Goodeyon, 1952
Ronald J. Goodeyon, 1961
Joan Walker Lanphere, 1944
Wanda Fausett Willard, 1944
Donations received following Freda's death
January 2007:
Janella Wittenbrink
Lanie Curtis
E. L. Thomas
Frances E. Hays
Buck & Pat Goodeyon
Paralee Howard
Molli, Cara & Carol Chitwood
OHS Class of 1944
Bob & Gert Vess & Family
Gary & Sharon Burgoon
Verna Lynne Barnett
Bill & Virginia Eddy
OHS Class of 1946
Eileen Spears
Mary A. Lake
Andrew & Kara Phillips & Family
LeiAnn & Benjamin Russell & Blake
John & Anna Lee Billam
Park Wayne Wagers in memory of
Myrtle Wagers Erickson
Randy & Terri Madden
Karen LaDuex
Carleen Gonterman Seaborn
Earl D. Seaborn
Mr. & Mrs. Walter Hays
Douglas C. Tyrrell and Nancy Tyrrell
Mildred L. Diehm
Ernest L. & Lurene Swenson
Betty J. Slusher
Bonnie Wallace
Nancee D. Rankin
Shirley Ann McGhee
Retired Teachers
Michael D. & Donnetta R. Kuder
Erma L. Ellis
Carol McClanahan Knoche
~ CONTRIBUTIONS RECEIVED IN 2009 ~
Charles Brown
Park Wayne Wagers
Herbert L. Law
Bob & Gert Vess
Bill & Virginia Eddy
Betty J. Campbell Slusher
Don & Faye Filiatreault
Ray & Nan Borden
John & Anna Lee Billam