| | | | | |
| --- | --- | --- | --- | --- |
| 1897-1918 | | 1919-1970 | | 1971 - Present |
Welcome to the official site
of the Osawatomie High School Alumni Association
Web Site Sponsors:
Site hosting for the month of May, 2016 is sponsored by
Lawrence W. Goudie, 1952
Our domain name for the period Jan 2016 thru Dec 2016 is sponsored by
Willilam L. Manly, 1945

Click here for a complete list of all sponsors
Donations to the Alumni Association may be sent to:
Osawatomie Alumni Association
P. O. Box 421
Osawatomie, KS 66064

The Alumni Board held their first meeting of the year
to prepare for this year's festivities.

Our reunion is held on the Saturday before Memorial Day of each year, which means this year's reunion will be on May 28th.

Our association has held an annual reunion every year since the organization was formed in 1894.
You are welcome and encouraged to purchase advance tickets. Prior purchased dance/banquet tickets will be available to be picked up at Donna & Viola's Shirts (formally The Locker Room) at 522 Main St., up to noon on Saturday, May 28th, and then at the door of the banquet. Dance tickets may be purchased at the gates.

The alumni members and guests are limited to 675 for the banquet, so get your reservations in quickly. Banquet tickets are $15 each. This year we are once again excited to announce that we are having the dance OUTDOORS - weather permitting! Main Street from 5th - 6th will be blocked off and we are having a street dance. The Silver Bullet Band will perform. They play a variety of music with an entertaining blend of Top 40 and traditional country-rock hits. Bring your lawn chairs and enjoy the festivities! Chris' Cafe and La Hacienda, two local downtown restaurants, will be open. Alcohol will be permitted - but no glass containers, please. If the weather does not cooperate, the dance will be held inside the city auditorium. Dance tickets are $5 each, Bracelets will be given at the gates. Gates will open at 8:30 PM.

Please Note: Construction is underway and Main Street from 1st to 5th Street is closed off. You will be detoured either on Brown or Parker Streets when you come in town.

Alumni Activities include: Parade through downtown - 10 a.m.; Social at high school cafeteria 2-4 pm.; Banquet/Meeting at high school gymnasium - 6-8 pm; Coffee Social at high school cafeteria (wheelchairs will be available) - following banquet - 8 - 10 pm.

The Library is sponsoring breakfkast again this year at the City Auditorium from 8 - 11am, catered by Chris Cakes - $6 for all you can eat.

Check below for a printable version of this year's registration letter:

2016 Registration Letter

If you know of someone you would like
to nominate for "Outstanding Alumni",
send your information to:

Osawatomie Alumni Association
P. O. Box 421
Osawatomie, KS 66064
One of our treasured legacies is our School Song
Copywrited in 1913, the words were written by Cora F. Conaway with music by J. A. Parks.

We're pleased to be able to provide
a copy of the sheet music
To join our Internet Mailing List . . .
send an email to:

with the words "Join Internet Mailing List"
in the subject line -
also give us your name and graduation year.

(This is not a discussion group.
We send out only important notices
such as when an alumni member passes away)

The annual registration forms are mailed to all members who have celebrated a 50-year reunion, and to the classes thereafter who are celebrating a 5-year reunion.

If you have not yet celebrated your 50-year reuion, but want to receive the letters annually anyway, notify us by email.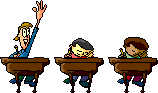 Click on any year below for news and contact information for that class:

Notable Quote:

"Of all the Alumnis in the East and West, this glorious Alumni of Osawatomie is the best. The Alumni has been a live organization ever since its coming to life in 1893. Miss Grace Adair Hunt was the first president of the organization, and out of her efforts it was established. And today, it is the largest and peppiest bunch of "old grads" in Kansas."

from the 1919 OHS Yearbook, The Cardinal
---
Remember When?
---
We need your help! If you have corrections or additions,

PLEASE e-mail the Webmaster