| | | | | |
| --- | --- | --- | --- | --- |
| 1897-1918 | | 1919-1970 | | 1971 - Present |
Welcome to the official site
of the Osawatomie High School Alumni Association
Web Site Sponsors:
Site hosting for the month of February, 2016 is sponsored by
Edward A. Lindsey, 1958
Our domain name for the period Jan 2016 thru Dec 2016 is sponsored by
Willilam L. Manly, 1945

Click here for a complete list of all sponsors
Donations to the Alumni Association should be sent to:
Osawatomie Alumni Association
P. O. Box 421
Osawatomie, KS 66064
ANOTHER REUNION HAS COME AND GONE!

Click below to see the festivities:

There is a DVD now available about some of this
year's festivities. It contains two interviews
by Mark Govea with Bill Manning and Marie Shelden.
There are also interviews with some of the members
of the 50-year class about their high school years.

The DVD was made by Paul Davis.
Cost is $20 each and they can be picked up
at Rita Schlesener's office at 560 Main in Osawatomie,
check payable to Paul Davis.
If can also be ordered and mailed for an additional $2.83, payable to Rita Schlesener.
If you want one mailed, contact Rita at
schlesenerr@yahoo.com

TO HONOR THE CLASS CELEBRATING
THEIR 50th REUNION,
WE CREATE A WEB-SITE VERSION
OF THEIR YEARBOOK.

Click below to see the
1965 Yearbook:

CLICK BELOW TO READ THE PROGRAM
FROM THE 1915 REUNION - 100 YEARS AGO:
One of our treasured legacies is our School Song
Copywrited in 1913, the words were written by Cora F. Conaway with music by J. A. Parks.

We're pleased to be able to provide
a copy of the sheet music
To join our Internet Mailing List . . .
send an email to:

with the words "Join Internet Mailing List"
in the subject line -
also give us your name and graduation year.

(This is not a discussion group.
We send out only important notices
such as when an alumni member passes away)

ALSO - if you want to receive the
annual registration form by mail,
Sent us an email
with the words "Join US Mail Mailing List"
in the subject line.
Be sure to give us your name, graduation year
and mailing address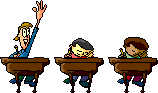 Click on any year below for news and contact information for that class:

Notable Quote:

"Of all the Alumnis in the East and West, this glorious Alumni of Osawatomie is the best. The Alumni has been a live organization ever since its coming to life in 1893. Miss Grace Adair Hunt was the first president of the organization, and out of her efforts it was established. And today, it is the largest and peppiest bunch of "old grads" in Kansas."

from the 1919 OHS Yearbook, The Cardinal
---
Remember When?
---
We need your help! If you have corrections or additions,

PLEASE e-mail the Webmaster